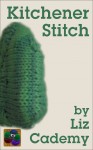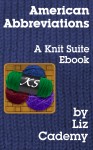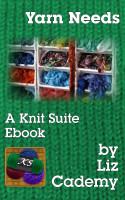 Welcome to Knit Suite
Knit Suite is a series of short reference ebooks for knitters. Every Knit Suite ebook has been written, illustrated and formatted to look good on your ereader, tablet, smartphone or computer. Knit Suite, lets you take a library of knitting ebooks with you, wherever you go.
Knit Suite ebooks are available in all standard ebook formats. You can download them from your e-reader's book store or Smashwords. PDF copies of some books, plus extras, are available right here, on the Knit Suite website.
Meet the Author

Liz Cademy is the author of the Knit Suite ebooks. She's been knitting longer than she cares to admit. She has been designing kintting patterns and teaching since the 1980s. Liz is a professional web and graphic designer, doing freelance work under the name Polymath Solution.
Published Knit Suite Titles
Kitchener Stitch, a guide with summary, detailed instructions and photos
American Abbreviations, American knitting abbreviation list
Yarn Needs, charts with estimated yarn needed for different projects
Coming Soon
These books are nearing publication soon.
Needles, size charts, needle types, and more
Pattern Reader's Reference all the info you need to understand knitting patterns in one place.
Future Ideas
Have ideas for new books? Send them to me using the Contact Us drawer at the bottom of the screen. I'm already planning books on:

More techniques
Color and stitch patterns from the 1950s, 1960s and 1970s
International knitting terms
A Top Down Sock Odyssey (title may change)
Conversion charts
Non-Knitting Books
I also have one book on a non-knitting craft:
Introduction to Chain Mail          an introduction to chain mail techniques to make armor and jewelry.
Bloggers and Reviewers
Free books are available to qualified magazines, bloggers, and other reviewers.  Contact me using the form in the drawer below for more information.